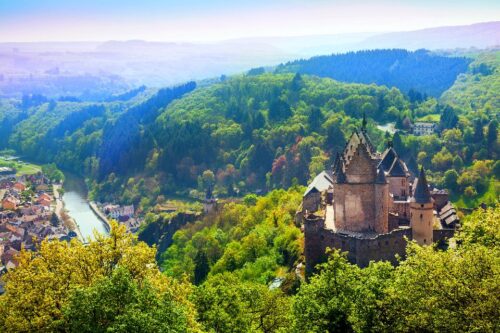 The Best Things to Do in Luxembourg for Family and Couples
Luxembourg is well known as one of the smallest countries in Europe and even in the world. From all of the 194 countries in the world, Luxembourg is 167th in size. Luxembourg is about 2.500 square kilometers in size 51 miles long and 35 miles wide.
For the population, Luxembourg is estimated to have 500.000 residents. This amount of population in Luxembourg is more like a big town rather than a country. But this makes Luxembourg as one of the best countries to visit in Europe.
There are many fun things to do in Luxembourg and also many beautiful places you can visit there. Luxembourg can be your best destination for your holiday this year as this country is located in the center of Europe will let it easier visit other areas there.
Luxembourg also becomes one of the best destinations as the country has many attractions which you can find in one area. You will find the World Heritage Site from UNESCO in the center of this country and enjoy the wonderful sights in Luxembourg.
Reasons Why You Have to Visit Luxembourg
Every country has its own attractions and destinations to visit so does Luxembourg. The country becomes one of the best countries to visit in Europe as it is travel-friendly. Luxembourg is the best country to travel to, to wander around on foot, to do a driving tour, and also by train.
If you are planning to have your holiday this year, consider Luxembourg as one of your destinations. Here are some reasons why you have to visit this country.
Location
As mentioned before that Luxembourg is located in the centre of Europe, it makes this country as the best place to visit. When you have Europe trip plan, make sure that Luxembourg is in the list because it is in the heart of Europe which is near for you to go to the other neighbour countries.
The access is very easy to go to Luxembourg from anywhere in Europe as this country is close to Germany, France, and Belgium. This country is close to other famous European countries so you are possible to reach everywhere easily.
Safety
Luxembourg is well known for its safety and becomes one the most-safest countries in the world. You can stroll around the country without having any worries about possible crime happening to you.
Luxembourg is very politically and economically stable so people have no intention to do bad things such as robbery or pickpockets. Most of people in Luxemburg have stable financial so that the number of crimes is very low.
The diversity
Countries that have many cultures and diversities are always interesting to visit. Luxembourg has large diversity that you can see from 6 different regions. You can find different fascinating landscapes in Luxembourg.
Your decision to visit Luxembourg will not be failed because you will be presented by amazing landscapes with a rich architectural, cultural, and also industrial heritage in a such small country. The contras between the business center and the world heritage sites are just breath-taking.
Fascinating nature
Other things to do in Luxembourg you can enjoy are strolling around the city with the picturesque scenery of nature. The small size of this country will not stop giving you amazing views because you will find fascinating greeneries among the amazing heritage sites.
Multilingual and multicultural
Luxembourg is located in the heart of Europe where you can go anywhere easily from this country. This strategic position makes Luxemburg special with multilingual and multicultural. There are about 170 different nationalities in Luxemburg and it is normal to find out people speak in many different languages on the street.
Most the people who live in Luxembourg are mostly able to speak German, French, and English. This multilingual and multicultural will make you amazed as Luxemburg becomes such a melting pot for people all around the world.
Best Destinations You Should Visit in Luxembourg
Small but alluring, might be the right statement to explain Luxembourg. This country is well known as a wealthy country as it has stable economic and political conditions. This wealthy country even has wealthier Middle Age history so no wonder that you can find historical buildings and wonderful places there.
If you plan to have a Europe trip this year, here are some best destinations you have to visit in Luxembourg.
Grand Ducal Palace
Grand Ducal Palace is located in Luxembourg City. It becomes one of the landscapes you must see in Luxembourg as this palace is very historical. It was built in the Renaissance-era in 1572 and became the official residence for Grand Duke Henri.
When the palace still became the residence of the duke, visitors were allowed to peek inside only during the special tours. This specially organized tour was available from the middle of June up to the beginning of September. But now, it is open to the public and you can visit Grand Ducal Palace on any day.
The Old Quarter
Another most historical landscape in Luxembourg you must visit is The Old Quarter which is located in Luxembourg City. The Old Quarter is designated as a UNESCO World Heritage Site that has a huge impact not only on Luxembourg but also for Europe's cities.
The fortress was unbreakable and it was also known as Gibraltar of the North. The original fortress was dismantled in 1867 up to 1883, but the impact of this fortress is unforgettable. Now, you can find beautiful parks and gardens among the old fortifications, completed with great architect buildings and streets among it.
You can enjoy the scenery and have wonderful things to do in Luxembourg this weekend. You can enjoy the area longer by staying in one of the hotels there.
The Bock Casement
Luxembourg City will spoil you with the breathtaking views in The Bock Casement with its famous cannon loop-holes and fortifications. Astonishing things to do in Luxembourg for families can be started here as this location covered more than 40.000 square meters.
If you are interested in the history of the tunnel's fortifications, you can explore The Bock Casement on foot. You will also find some interesting buildings there including Casements du Bock which is an underground network 21 km long that was hewn from solid rock.
The Walls of the Corniche
The astonishing Walls of the Corniche is known as the most beautiful balcony in Europe Continent as it towers over the old city. Romantic things to do in Luxembourg can be done here if you want to experience once with your partner.
You will find the huge Gate of the Grund that was there since 1623. Moreover, you can also enjoy the beautiful view of aristocratic houses and the ancient convent of the St. Michael Church and the Dominicans that were built in AD 987.
Echternach
Echternach is a beautiful small town which is located on the bank of the River Sure. This small town forms the border with the neighbor country, Germany. There are several things to do in Luxembourg, especially in this small town as you can find beautiful Germano-Luxembourg and The Mullerthal parks there.
You can wander around and enjoy the greeneries through the footpaths that will lead you to the wonderful rock formations, lakes, waterfalls, and the beautiful views of mother nature. The attractions of this lovely town come from its beautiful narrow streets, the old aristocratic houses, and the ancient ramparts there.
The Luxembourg Ardennes
If you are suffering from the beauty of nature, The Luxembourg Ardennes is the perfect place for you. Lots of things to do in Luxembourg, but once you get to this place, you will hope to stay there longer or forever.
The Luxembourg Ardennes presents the wooden hills, hidden valleys, high forested plateaus, and other countless breath-taking views of nature. Besides, you can also find the famous historical area where Hitler orated his campaign in WW II.
Bourscheid Castle
Bourscheid Castle is located on a high plateau here is the border between River Sure and Wark located. The castle was built in the 10th century and has been restored several times. This castle was built with solid rocks 137 meters high.
Now Bourscheid Castle is open to the public so that you can visit this beautiful historical castle with amazing views from above. It is also accessible for you if you want to visit the castle at night to enjoy the spectacular view of the castle when it is lit up. It will bring you to the old-time that you might never imagine before.
Luxembourg City History Museum
Luxembourg City History Museum was firstly opened in 1996 and becomes one of the newest attractions in Luxembourg. This museum presents the rich history of the city from more than 1000 years ago.
Finding out the old history and proving yourself the aristocratic stuff from more than 1000 years ago are amazing things to do in Luxembourg. The building of the museum itself was a mix design of the old and new from the 17th century and 19th century.