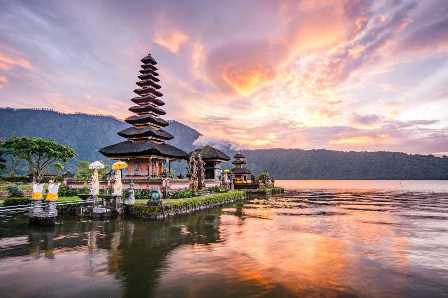 Bali Indonesia – Things to Do in Bali for Couples
Bali is the most popular area that is often visited by tourists. Local and foreign tourists flock to this area. This tourist destination in the province of Bali Indonesia has been well known in the international realm. This is because Bali has such a beautiful landscape and also a very romantic feel.
When looking for a romantic travel destination, Bali is the perfect answer. The Island of the Gods does have all kinds of places that have special nuances when visited with a partner. With a line of beaches, mountains, and five-star resorts that offer stunning views, Bali is ready to make your vacation with your partner even more memorable in the Bali Indonesia tourist spot.
The province of Bali provides a variety of romantic photo spots, ranging from natural scenery to various artificial places such as hotels, restaurants, and so on. This is what makes Bali the main list of tourist visits with a partner. There are also various choices of honeymoon places, which of course have a romantic feel with a natural theme that soothes the eyes.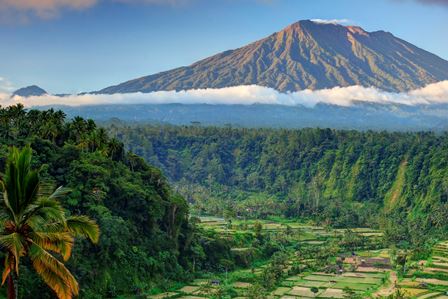 Recommended Tourist Spots In Bali For Couples
The beauty of the beaches and sea in Bali makes this island a popular destination for honeymooners. The Island of the Gods does offer exoticism full of charm in every corner. No wonder, if Bali is almost always the choice of newly married couples. Several spots in Bali Indonesia are famous for their romantic tours.
These various tourist objects are equipped with beautiful natural panoramas and rich cultural values. That is why vacationing with your partner for some time in Bali will be very memorable. Here are some tourist spots for couples in Bali.
La Laguna Beach Club Canggu
La laguna beach club Bali is one of the most popular romantic dining places and is often visited by tourists. This place has a unique and conceptual design. You can enjoy a delicious meal with your partner while watching the beautiful sunset over the sea.
This place can be rented to do pre-wedding photo activities, magic shows, and other activities. La Laguna was built with an outdoor concept, decorated with yellow lights attached to the trees that can add to the romantic atmosphere. For those of you who are going on vacation with your partner, you should try this romantic place.
The Secret Garden Village
Here you can not only relax but also increase your knowledge. Tourist attractions in Mekarsari Village, Baturiti District, Tabanan Regency, and Bali present many interesting things to tourists. You can do many things, from shopping using Bali Indonesia currency or dollars, drinking coffee, eating, to seeing the process of making soap, cosmetics, and the like.
You can enjoy a romantic date with your girlfriend at The Secret Garden Village. Moreover, here there are also various photo spots that you can take advantage of. This photo hunting tour is very interesting and provides both pleasure and insight for visitors.
Virgin Beach
Virgin beach is a beautiful hidden beach in Bali Indonesia. This beach is commonly known as Perisa Bali Beach or Bali's White Sand Beach. This hidden place makes Virgin beach still rarely visited by local and foreign tourists. This beach has a natural feel that is calm, clean, beautiful, and also quiet to visitors.
For those of you who want to take your partner on vacation with a romantic atmosphere, the Virgin beach is the right destination. You will feel a sensation like a private beach because the beach is still very rarely visited. Clear and safe sea water can further add to the romantic feel when you swim and snorkel with your partner. There are deck chairs for sunbathing and also umbrellas located in front of the small cafes. You can relax with your partner while enjoying seafood dishes and natural views that are so pleasing to the eye.
Desa Temukus
Desa Temukus is one of the villages in Bali Indonesia that has a natural charm. Here there is an expanse of flower fields which is very suitable to be visited with a partner to find romantic photo spots that are Instagram-able. This flower field is full of kasna flowers. This flower is pure white which can spoil the eye. Besides Kasna flowers, there are Gemitir flowers or marigolds which are yellowish orange in color.
This flower field is a free tourist spot that presents the beauty of such a beautiful flower bed. You can take pictures with your partner as much as you want without the need to spend a penny. This flower is also usually used to pray for Hindus in Bali. Desa Temukus is often visited by domestic and foreign tourists.
Bukit Mende
One alternative to Bali Indonesia travel that you can visit with your couple is Bukit Mende. This is suitable for those of you who like to hike with a partner. It is located in the Kintamani area and of course, this climb is still quite quiet and has beautiful views that you should not miss.
Along the path with a slope of 60 degrees, you can enjoy the beautiful views of the beautiful green hills. Then take photos in this area famous for its coolness. The climbing terrain on Mende Hill is quite light, especially for those of you who are used to climbing heavy terrain.
Remember to prepare well if you want to come, especially if you are still a beginner in the world of climbing. Dating with couples becomes anti-mainstream by visiting Mende Hill.
Breeze at The Samaya
Breeze is one of the beachside restaurants in Bali Indonesia. This restaurant has a beach view. This restaurant is located in a beautiful exotic location, it is a choice for every couple to have a romantic dinner with a beautiful view. The food served in this restaurant is modern international food.
Those are some recommendations for tourist destinations with couples in Bali Indonesia when you want to honeymoon or just have a vacation.