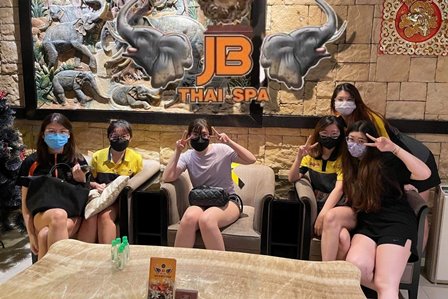 JB Thai Spa, Johor Bahru Malaysia
JB Thai Spa – One of the most popular and recommended spas in Malaysia is JB Thai Spa Massage. There are many spa services provided. If you're looking for information about JB Thai Spa, now you've found it. In this article, we provide information about the address and telephone number of JB Thai Spa, Johor Bahru, Malaysia.
JB Thai Spa Malaysia
The following is information about JB Thai Spa that we can provide for you:
Place Name: JB Thai Spa
Address: 40-42, Jalan Serampang, Taman Pelangi, 80400 Johor Bahru, Johor, Malaysia
Phone Number:

+6073

3

22233

Hours:

Wednesday 11AM–5AM
Thursday 11AM–5AM
Friday 11AM–5AM
Saturday 11AM–5AM
Sunday 11AM–5AM
Monday 11AM–5AM
Tuesday 11AM–5AM

Facebook JB Thai Spa: facebook.com/jbthaispa
I hope this information is useful for those of you who are looking for JB Thai Spa Malaysia. If you have other information about JB Thai Spa or have visited it, please share your experience in the comments column.
Reviews of JB Thai Spa
Dawan Thong: It is a large massage shop and a private sauna, cold air conditioning, clean rooms.The course is with salt scrub with a fine beads and GuazI
Devin Lee: Fantastic and value for money massage. The ambience is good, and the environment is so inviting. The price is affordable as well. I tried the 90 min aromatherapy massage and was blown away by the service. Would definitely visit again. Thank you to therapist 26
Roar SG: Go for jacuzzi and massage package. The package come with private vip room that consist of massage room, shower room, jacuzzi and sauna. Massage was good also
Tris M: We did a 2.5 hour massage and enjoyed it throughout. Professional Thai masseuse (they go by #53 and #73). Reasonably priced and great location with eateries around. A good stop if you are visiting.
Chong Hoe: This place is cozy and clean. The Filipino masseurs (No.6 and No.29) were friendly and have great strengths! Felt so relax throughout the massage. One thing to improve would be the bed – not sure if it's the hole that's too big. Most of us felt uncomfortable when we lie facing down. Will definitely return again!
ZX Thian: Did the 90 minute traditional Thai massage, masseuse were skilled and professional. Cost was rather reasonable (93RM). Would recommend this place for people looking to get good massage service
Fiona NG: Had a really good massage here! My masseuse was #69, Tikyk (hope I got her name right). She pressed al the pressure points correctly and it was painful but I really did feel like the tension in my upper body and shoulders was released after the session. She was friendly and made sure to take care of my needs (eg. The temperature in the room) and also accommodated where I felt like it was too painful etc. a wonderful experience with Tikyk! The place is very well set up and looks quite luxurious, and they also offer free transportation for people who are coming from nearby (eg. City square / KSL). Call them and they will come fetch you. Great service.
Shion: Great massage at reasonable prices at just less than 10 minutes drive from the checkpoint. Rooms were spotlessly clean and comfortable. Will be back.
Wendy Tan: First time here for foot massage. The massage therapist was great. They provide pick up and drop off service. Definitely will come here to try their body massage.
Natalie Tan: Very professional and big Thai place for massage. The petite Thai masseur was very polite and friendly, applied the right pressure, don't feel stressed out or painful during the massage. Thank you!
Christian66: Great place for a relaxing massage, parking is convenient and they have a guy outside to look after the car, added peace of mind. Usually will opt for private room with attached bath for additional rm10 per person.
Anna Ong: best massage ever! Went for a 1h foot massage that was so good, even helped me crack my back and massage my hands too. Amazing stuff 👍🏼
Annabethia: The masseurs were really good and I felt very relaxed after the massage. The massage was quite value for money as well.
Mabelle Tham: Massage: good experience (masseuse 51), knew of good pressure points and when to exert (masseuse 10). Ambience: friendly masseuses talking. Facilities: spacious room, clean, good strong aircon. Masseuse: made us Comfortable, from Thailand Khon Kaen