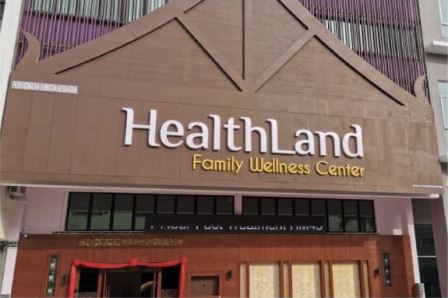 HealthLand Family Wellness Centre (Penang)
My Healthland Group of Companies ("Healthland") was founded in Malaysia at the end of 2013 with its vision to provide premium wellness treatments at an affordable price for everyone. Healthland is positioned to provide 5-star service at 3-star price. The corporate mission carved by its founders is to establish Healthland as a 'household brand' to pioneer the concept of One-Stop Wellness Centre.
The perseverance and hard work paid off in 2018 when Healthland became the largest wellness operator/retailer in Malaysia. In the span of 4 to 5 years, Healthland has grown from strength to strength since its inception and standing tall at 40 wellness centres across the Klang Valley (37 in Kuala Lumpur and Selangor) and (1 in Johor Bahru, 1 in Penang and 1 in Melaka) with total retail floor space exceeding 250,000 sq ft (approximately 23,000 sq. m).
Information of HealthLand Family Wellness Centre
Place Name: HealthLand Family Wellness Centre (Penang)
Address: 56&58, Lorong Abu Siti, George Town, 10400 George Town, Pulau Pinang, Malaysia
Areas served: George Town
Hours:

Sunday 11AM–11PM
Monday 11AM–11PM
Tuesday 11AM–11PM
Wednesday 11AM–11PM
Thursday 11AM–11PM
Friday 11AM–11PM
Saturday 11AM–11PM

Website: https://book.healthland.com.my/about/outlets
Phone: +60 4-217 0773
Location: Maps
HealthLand Family Wellness Centre Reviews
VKL: Online reservation is required for better arrangement. I recommended massage with oil as the service was with gloves so it would be better go with oil. They also putting on mask.
Overall i rated professional services by the center. The surrounding and environment also much better than others. I think it worth the price pay.
You may check online for the happy hour package for lowest price deal, normally is between 11am to 3pm. It is comparable to Danai Spa if not better. 2 hours massage is excellent. Ended with a cup of ginger tea. One of the best in Georgetown.
Xin Xinz: Spacious space… Can park in front of the shop… Staff are friendly…(need to book online) Every Wednesday have promotions 90 mins foot massage only rm60++ which is definitely worth the price…. B4 the foot massage will clean ur foot 1st…after finish foot massage, they wil clean it with hot towel… And they will have abt 10 mins shoulder massage as well…
Rahman K: Best massages ever by masseurs T922 and 8. Both should be #1. PS to management, maybe let them have named name tags.
Tong SK: 1st time step into this branch after 3 months move to penang. Easy to reach for booking compared to puchong branch and the massageurs are professional in point pressing and aroma msg. Feel so relax here. They r having happy hour promo also.
Carina Fung: I'm floored by how amazing our massages were. First of all, the place is really busy. We walked in and had to make an appointment for later that day which was a slight bummer but also a promising sign. Our 2 hour Thai deep tissue massage was one of the best I've ever had- I have had knots for years that no one else was able to relieve until I came here. It's also very affordable during their happy hour promo so I'm extraordinarily thankful for this find! The staff are extremely skilled, and they cracked me like a glow stick. Wish they had an outpost in the US!
Okada Bear: Me and my husband went to massage in healthland for the first time, my massager Tong ting, i remember her name,i think so haha, she was very good in oil aroma , i think she press and did very good job, we did went alot of outlet but i think penang did the best for both of us, my husband like thier service too, overall i rate five star for them, even we use packages that sign from other outlet in kl, but they stil provided a good service without any hesitation