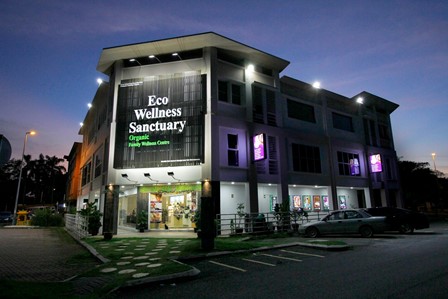 Eco Wellness Sanctuary
Welcome to the Eco Wellness Sanctuary, a sanctuary of wellness at the edge of Klang's vast newer, modern botanical-themed suburbs.
Inspired by natural wellness, Eco Wellness Sanctuary links the discovery of nature's most potent ingredients to the health and wellbeing of our guests.
We bring you exclusive massage therapies, FIR sauna therapies and spa products that not only regenerate the skin, but also impart a profound sense of wellbeing to spirit and mind. Unparalleled in performance and purity, Eco Wellness Sanctuary employs only the finest ethically-sourced, certified organic essential oils and plant actives to visibly heal and nurture.
Choose from facial, body, massage and FIR sauna therapies or indulge in a tailored spa package to suit your individual needs.Unwind, rejuvenate, relax and heal.
​Set in opulent surrounds and intimately private, Eco Wellness Sanctuary provides a haven for renewal and inspiration for lifestyle change. Enjoy the journey as well as the destination.
Information of Eco Wellness Sanctuary
Place Name: Eco Wellness Sanctuary
Address: Summit, No.197 & 199 M, Jalan Magazine, 10300 George Town, Pulau Pinang, Malaysia
Hours:

Sunday 12–10PM
Monday 12–10PM
Tuesday 12–10PM
Wednesday 12–10PM
Thursday 12–10PM
Friday 12–10PM
Saturday 12–10PM

Website: https://ecowellness.me/
Phone : +6043713689 /+60194815469
E-mail : ewsp@naturalelixirs.com.my
Location: Maps
Eco Wellness Sanctuary Reviews
Yeo Kai Wen: Ambience: Clean, professional and the decor did not stray away from the Penang-styled houses we have grown to love. Enjoyed the space which allowed me and my friends to relax and wind down after a hot day out in the sun.
Service: Professional, hardworking, and these folks know what they are doing. There aren't many people on duty though, as it may have been off season. So you might need to wait if you want to have a group session with friends. Make a reservation!
Overall: Impressed by the professionalism and cleanliness of the space. Will definitely be back for more next time!
Konstantina Lazaridou: Excellent Thai and aromatherapy massage! Definitely recommended. The lady at the front desk is a delight. There was a bit of miscommunication with the masseuses but at the end all was good. You might also want to go not at rush hours, because there can be noise from the cars.
Xin Ru Lee: Fluid, fuss free and hard thai massage. Value for money compared to other more premium places. Felt so much better after my 90 mins Thai massage. Ambient noise from the roads can be a lil loud at times but otherwise a good experience. Will be back again!
Ai Jia: What a wonderful 2 hour aromatherapy body massage! My therapist was super skilful and helped me ease out all the knots. The place is very clean, new and comfortable, with relaxing environmenr and thoughtful features such as phone charging station. Highly recommended!
Naomi Gu: So my family and I stayed at the hotel nearby. And after 2 terrible massage experiences at the malls around here, we finally tried this place. It was the best massage I've ever had! All 5 of us are satisfied. The thai massage is definitely recommended!
xihwee wee: Went for their aroma body massage and it was superb. I felt I had never had such great massage else where. Great ambience and friendly staff. Would totally recommend this place for those who wants a great massage!👍🏻