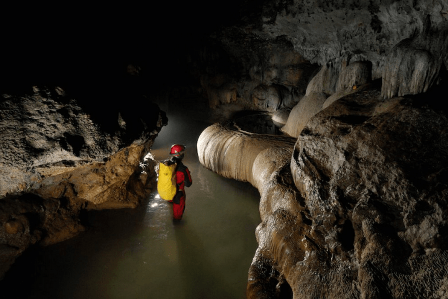 Cerme Cave in Bantul, Yogyakarta, Between Mystical and Natural Beauty
Cerme Cave – Do you want to have an adventure and a religious trip? Cerme Cave could become your choice. The cave which located between the village of Srunggo in Bantul and the village of Ploso in Gunung Kidul was the meeting point of Walisongoto where they discussed about Islamic missionary and Masjid Agung Demak installation.
Cerme Cave is situated at a height of 500 meters above sea level. Not only offering the beauty of the stalactite and the stalagmite, this cave offer you also the beautiful water fall and underground river flows along this cave. The length of this cave does exceed 1,5 km which the entrance is located in Bantul while the exit of this cave is in Gunung Kidul
Before entering Cerme Cave, it is required to inform the guide in advance because there are confusing branches in this cave. To explore this cave the visitors need also to bring some equipment that can be borrowed from caving rental equipment which can be found around this location. During the exploration, the visitors should follow the guide instructions because there are some points that could be quite deep.
Not only enjoying the beautiful cave walls when the flashlights give them an illusion of the colors appeared, the visitors can also see the cave where the people usually have meditation. If they are lucky enough they will find some people doing meditation. So, no wonder if the visitors would smell of incense.
The visitors won't need a float just like in Kalisuci to explore this cave's underground river. Therefore, they are suggested to bring their own additional clothes in case the water level would rise up to waist-chest of an adult. It won't become a big surprise also if they would see some activities using the cave's water especially like washing some clothes.
The Cerme Cave location is a hilly landscape in the southern part of Imogiri. You can take the route from Yogyakarta to the south part through Giwangan bus station and Imogiri Timur Street.
Then you have to follow the path to Siluk/ Selopamioro. After passing the Oya river bridge, you will discover a crossroad, and you have to take the right one.
A few meters later there will be another crossroad and you have to choose the left one or just go ahead. Pay attention, the road is quite hilly. You just need to continue along the path to Cerme Cave parking area or to that Cave its self.