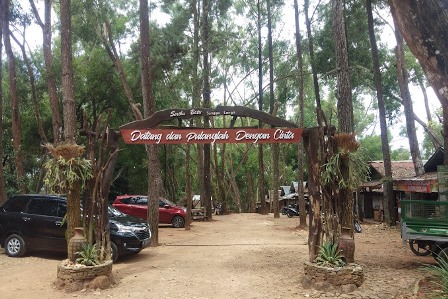 Thousand Stone of Songgo Langit, Bantul: Interesting Photo Spots and Fables
A glimpse of the name of Thousand stones of Songgo Langit sounds unique. But it makes sense if this place called "Thousand Stones" because there are many big stones around the place which still belongs to Mangunan's Pine Wood area.
Other than attracting the tourist with its huge rocks that settle on the middle of pine wood area, this tourist object offers also various unique selfie spots which would be hard to find in other tourist objects.
Some unique spots you will discover in Thousand Stones of Songgo Langit are Hobbit Houses that look similar with Hobbit Houses in Kelinci Pujon Malang park, wooden house and bridge connected among the trees, view substations, tree houses, and other unique spots.
The visitors can feel more excited to visit Thousand Stones of Songgo Langit because there are several outbound facilities like flying fox and wall climbing area for climbers.
The other facilities such toillet, food stall, and parking area are wholly adequate for visitors. The visitor doesn't require to pay entrance fee to get to the area of Thousand Stones of Songgo Langit, but they will only pay the parking retribution costs Rp.3000 for motorbike and Rp. 10.000 for car.
To reach Thousand Stones of Songgo Langit from Giwangan Bus Station, the visitors just need to go ahead to pass Imogiri Timur street until the T-junction of Imogiri traditional market.
From this market they have to follow the route to Mangunan Village. When, they will find Bumi Langit Restoran, they have to take the direction to Watu Goyang that will lead them to the destination of Thousand Stones of Songgo Langit Yogyakarta.