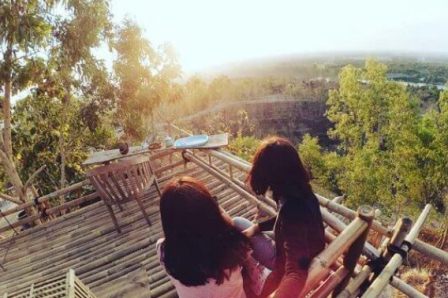 Watu Lumbung Educational Village Can Become Your Tourist Destination Choice
Do you want to get something more than having fun on your vacation? Watu Lumbung Educational Village can become your tourist destination choice.
Located on the hill of Parangtritis, Kretek, Bantul, Yogyakarta, Watu Lumbung will offer you the beautiful views of the city of Yogyakarta and will give you also unforgettable education
Watu Lumbung Educational Village was built on 2003 by Muhammad Boy Rifai who wanted to empower and help the society economy through contribution of tourism sector.
Watu Lumbung Educational village has several area such outbound area, library, food court area, playground, flying fox area etc.
Watu Lumbung Educational village was built in the middle of teak trees plantation area. Natural concept becomes the building custom in this area. The bamboos are used to make gazebos among the teak trees.
Some buildings that can also be found are three-storey's tree houses which constructed among the trunk of teak branches. The visitor can enjoy the beautiful panorama around this place from this hilltop.
The visitors choose freely the foods in the food court area while enjoying the natural view of this tourism object. The stalls you will discover in this place are Kedai Wedangan, Pusat Sate Kiloan, Lembayung, Kedai Susu, and Alas Kuliner.
The ones which becomes the tourist attraction in Watu Lumbung Educational Village is its tree scenic view point that made on the teak tree. This tree scenic view point is inspired by the tree subtation concept in Kalibiru, Kulon Progo.
From this tree scenic view point, the visitor can see the scenery of the winding of Opak River and Opak iconic bridge.
Not only enjoying the food and the view, the visitors are also invited to plant the trees around Watu Lumbung hill. They can also donate some books to the library in this place. The visitors who donate at least 3 books will get a reward as well as food, drink, and free souvenir.
The afternoon will be the best time to visit this Watu Lumbung Educational Village because the visitors could enjoy the beautiful sunrise from the top of the hill.
To reach this tourist destination, the visitors just need to pass Parangtritis street from Yogyakarta. And after, they will across the Opak river bridge which situated near Parangtritis beach retribution area, and then they have to turn left or just take the other tracking of Parangtritis-Siluk.
After about 200 m, there will be a track direction sign heading to that educational village.