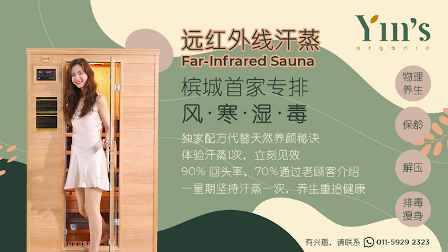 Yins House Far-Infrared Sauna Spa Penang
Yins House take an organic holistic approach to preventing and reversing disease. Yins House offer an alternative health product that treats you entirely, almost any condition. Yins House believe that you are not living your best life possible, unless you are completely healthy as mother nature intended.
Yins House goal is to provide an alternative medicine that will reverse and prevent disease. Yins House results have proven that, the best way to heal the natural body is naturally without relying on industrial produced pharmaceuticals.
Yins House understand that not all products work for everyone, believe us, we know. Our proprietary formulated Yin's Oil is backed by actual conducted research.
So you can count on Yins House to have the highest quality alternative organic certified health product on our shelves.
Information of Yins House Far-Infrared Sauna Spa Penang
Place Name: Yins House Far-Infrared Sauna Spa Penang
Address: 30, Jalan Goh Guan Ho, Taman Goh Guan Ho, 11400 George Town, Pulau Pinang, Malaysia
Hours:

Sunday Closed
Monday 11AM–10PM
Tuesday 11AM–10PM
Wednesday 11AM–10PM
Thursday 11AM–10PM
Friday 11AM–8PM
Saturday 11AM–8PM

Phone: +60 11-5929 2323
Website: https://yinsorganic.com/
Location: Maps
Yins House Far-Infrared Sauna Spa Penang Reviews
YT Tioh: Friendly staff, good environment for relaxing and recovery. Feel better after the treatment on my right leg due to previous accident. Recommended to others to have a try on this service. Not costly for the service.
CH Ooi: Before I went for the far infrared sauna treatment, I was sleep-wake cycle for about 1 month plus. After about 6 to 7 time I do the far infrared sauna my sleeping patterns improve. Because infrared can increase blood flow and heart rate to create a passive cardiovascular workout, users can notice similar effects. Infrared heat can increase your heart rate to leave your body with that just-hit-the-gym feeling. This can help your body exert some energy, become tired and feel the need for a restful night's sleep.
Abigail Carlisle: Very pleased with my experience today. Jasmine prepared me for my infrared sauna with herbal tea, sacha inchi oil for my skin. I felt very comfortable. Loved my 45 minute sauna, and I feel much better after my plane ride yesterday.
Divya Rubini: It is just my second visit today..Already seen a lot differences..My face became more firm n smooth..The Sacha Inchi oil which provide by Eileen helps my skin to be more radiant now.. The sauna helps my whole body to detox..Sweats a lot!!I just love this sauna..Eileen treats her customer well and I feel like being at my own house there!!
Oh Celine: 1st try on their sauna, it's different from other place 👍good for detox n beauty.. suitable for all type age!
黑白配 Black vs white Play Chanel: After I did the first steaming, there was no dysmenorrhea during my menstrual period. It solved my dysmenorrhea problem for more than ten years. After the second to fourth steaming, the migraine problem has gradually decreased. I am very happy that I don't have to face Menstrual cramps every month
Vivian Chong: In November 2021, I know this infrared sweat through Facebook. I can't sleep well every night. I did infrared steaming for the first time. I slept well that night, and the next day, I was still in good spirits. It has been almost a year since I had menstruation. It's amazing to see results in just a few months.