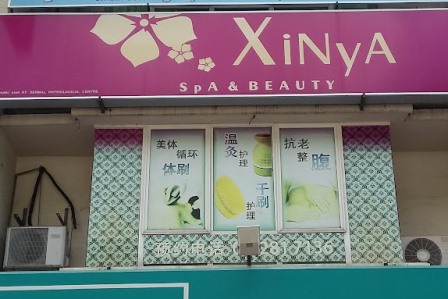 Xinya Spa & Beauty
Information of Xinya Spa & Beauty
Place Name: Xinya Spa & Beauty
Address: 56, Jalan Masjid Negeri Taman Guan Joo Seng, Greenlane Heights, 11600, Pulau Pinang, Malaysia
Hours:

Sunday 11AM–5PM
Monday 11AM–7PM
Tuesday Closed
Wednesday 11AM–7PM
Thursday 11AM–7PM
Friday 11AM–7PM
Saturday 11AM–5PM

Phone: +6046584543
Website: https://my192550-xinya-spa-beauty.contact.page/
Facebook: https://www.facebook.com/XinyaTreatmentSpaBeauty/
Instagram: https://www.instagram.com/explore/locations/453304398/xinya-spa-beauty/?hl=en
Location: Maps
Xinya Spa & Beauty Reviews
Fatin Anisah Nor Azman: Welcomed by a drink and briefly explanation on each of services that they provided. Thank you to my therapist, Emily for giving awesome facial spa and Guasha eye treatment. Worth every cents! I'm highly satisfied.
Hana Samsudin: Good staff. No hard sell. Dedicated parking. I though there are two companies in one building but the upper floor is Chinese based treatment and the lower floor is Javanese based treatment. Nice and friendly owner. Come over to chat after I tried the first time to get a direct opinion on their service. Hope they can keep up their good service.
SOO CHING HAM: Excellent massage place would recommend to go!
HH Heng: nice SPA center with skillsfull therapist