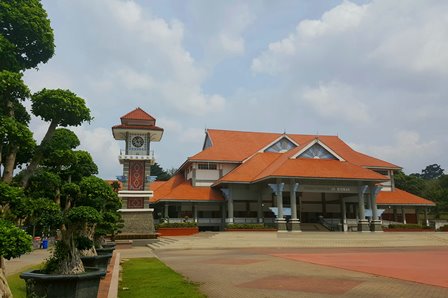 Taman Tasik MPK Kluang
Sepetang Di Taman Tasik MPK Kluang JOHOR
Berkunjung Ke Kluang tidak lengkap rasanya jika tidak bersantai di Taman Tasik MPK Kluang. Teman-teman boleh merehatkan minda dengan membawa keluarga mahupun rakan-rakan.
Terdapat taman permainan kanak-kanak, laluan untuk berjogging serta pelbagai jenis alatan senaman di sepanjang laluan berjogging. Apa yang menyeronokkan ialah,kehadiran teman-teman akan disambut dengan sekawan burung merpati. Itu pun kalau nasib teman baik la.
Selamat Datang Ke Kluang.
Information of Taman Tasik MPK Kluang
Place Name: Taman Tasik MPK Kluang
Address: Kompleks Pejabat-pejabat Kerajaan, 86000 Kluang, Johor, Malaysia
Phone Number: +60167368188
Website: http://www.mpkluang.gov.my/en/node/783
Hours: 24 Hours
Location: Maps
Taman Tasik MPK Kluang Reviews
Lee Khangshi: Lot of nice view over here, I even saw ppl take the wedding photo here. Can rent bike here, good for the families with kids. Many ppl jogging here, can also have sport activities here with their facilities
Elmiah Yusup: Very nice and spacious. Suitable for jogging and leisure activities with children. There is a skateboard park. If you're a skateboarder, this park is great for you. You can also take nice photos around the lake. Very scenic and beautiful background.
mahadi azman: A good recreational place for families.. During covid 19, please maintain your distance between peoples and stay safe everyone.. A great place to chill alone and else..