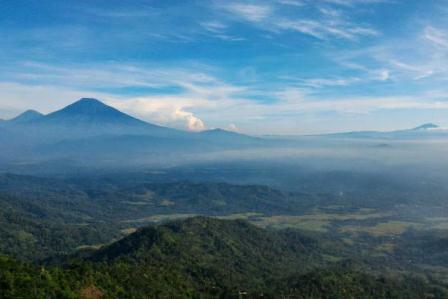 Suroloyo Peak is The Best Place to See The Borobudur Temple
Suroloyo Peak – For the nature lovers, Kulon Progo could be the right choice to visit. In the northern part of Kulon Progo, on Menoreh Hills that stretches across the regions of Kulon Progo, Magelang and Purworejo Regencies, we will discover a lot of ecotourism potentials.
Menoreh hills has the highest point namely Suroloyo Peak. With an altitude of approximately 1,091 meters above sea level, from this Suroloyo peak the visitors can see the view of the four mountains which are Merapi, Merbabu, Sindoro and Sumbing. So that's why this place becomes the one of traveler's favorite places.
Suroloyo Peak has three scenic view points to enjoy Menoreh Hills panorama. The tourists must climb hundreds of stairs to reach the top of the hill. The amazing view on the top of the peak will immediately pay your tiredness off during the climbing.
The dry season will be the best time to visit Suroloyo Peak because you can see the sunrise and sunset view clearly from the top of this hill without being blocked by fog or by clouds. And when the sky is really blue, you can enjoy seeing the small view of borobudur in the middle of the hills and the four mountains.
Other than the amazing view of Suroloyo peak, durian season is also the reason for tourists to visit Suroloyo. Menoreh's durian has special aroma and taste. Almost every year there is Durian Festival in Suroloyo which is destined especially to the durian lovers. Here the visitors could taste the best durian variety, or buy directly the seedlings of the best durian variety that has already certification from the Department of Agriculture.
The route to Suroloyo Peak isn't really hard, but we have to check first your vehicle before going to this peak because of the steep and the winding route. So we must make sure that our vehicle is in good condition.
You can start from Godean street to go to Kulon Progo. After you find the intersection,take the direction to the right toward Kalibawang, about 15 kilometers. Then on your left side there will be the direction sign board to reach Suroloyo peak.
Entering Suroloyo area, each visitor have to pay Rp. 2.000 for the entrance fee. But, if you are about to use an ojek service from T-junction of Bendo to the Suroloyo peak, you have to pay Rp.50.000 for round-trip.