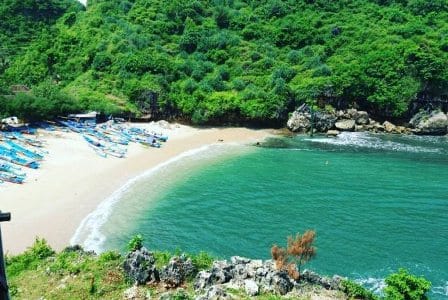 Exploring Gesing Beach in Gunungkidul and How To Get There
Spending a holiday in Gunung Kidul Regency becomes a good idea, especially for those who love nature. As for the reference, the region offers many beautiful beaches to explore. One of them is called Gesing Beach.
This one is located in Girikarto Village and it belongs to Panggang Sub-District. Visitors can enter the site freely and they would be able to enjoy lots of fun activities there.
However, the beach hasn't featured sophisticated facilities yet. Even a parking area is absence, so tourists need to look for a good spot to park their vehicle.
The Nuance
One of the reasons for visiting Gesing Beach is definitely to enjoy the nuance. It is considered peaceful due to the seclusion. However, the beach doesn't feature a sandy shoreline.
Instead, tourists would find rocky cliffs and lots of flora to explore. Here is the good news. The site has come with a wooden bridge to enjoy both sightseeing and photography.
The next feature is the presence of some fishing spots! This explains why many locals often come to the beach for fishing. These people can be seen by the shore on some rocky cliffs, therefore.
Exploring Gesing Beach
When it comes to tourist activities, most visitors come to Gesing Beach for fishing. As mentioned before, many recommended spots are suitable for enjoying the activity.
For outsiders, in this case, they need to talk to villagers first regarding the best spots for fishing. Have no worries. Many local fishermen often drop by on this beach, as they want to catch fishes that live in the midst of corals.
Many species live in that area, after all, including lobsters, squids, mackerels, and layur. In fact, many sea decorative fishes can be found in the east corals! Thus, it is recommended to find the right spot for fishing later.
Aside from fishing, Gesing Beach is suitable for photography. Even though visitors won't find a sandy shoreline, they can explore the cliffs instead. Have no worries. It is considered easy to explore the beach due to the presence of a wooden bridge.
From the bridge, the views look better! Thus, it becomes the best spot to take photos! The only consideration is related to the weather. That means tourists must choose the right time to explore the beach. Coming at noon is not recommended, in this case, due to the heat of the sun.
The gradation of light green and blue seawater also becomes another charm of Gesing Beach. Plus, the breezy warm wind helps tourists to relax in a more comfortable manner.
Later, before going homes, tourists should also drop by in TPI or the local fish auction center. The purpose is definitely to buy some fresh fishes directly from local fishermen. As an alternative, tourists can simply visit local seafood eateries and buy some delicious foods there.
Nearby Attractions
Buron Beach
Buges Beach
Girikarto
How to Get There
Tourists' first destination would be Yogyakarta City and it can be done fast by airplane (especially those coming from outside the region). From Jakarta City, tourists can take an airplane at Soekarno – Hatta International Airport and head to Adisucipto Airport (Yogyakarta) right away.
This flight usually takes around 1 hour and 10 minutes. After arriving at the airport, tourists can simply take Nasional III Street and head to Gunung Kidul Regency. The distance is 44.8 km, so this trip may take around 1 hour and 9 minutes.
Next, they should take Raya Panggang Wonosari Street and head to Gesing Beach at Girikarto Village. This trip takes about 1 hour, as the distance is 38.2 km. Source: http://indonesia-tourism.com/yogyakarta/gunungkidul/gesing_beach.html
Where to Stay