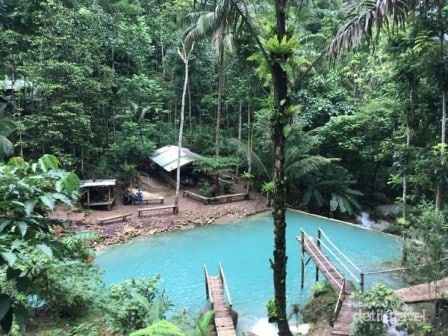 Exploring Kembang Soka Waterfall and How To Get There
One of the regencies of Yogyakarta Special Region Province, Kulon Progo Regency, is known for its pristine nature.
No wonder, tourists may find lots of natural attractions if they explore the region especially waterfalls! Many of them reside in Girimulyo Sub-District including the one called Kembang Soka Waterfall.
To be exact, the location is in Jatimulyo Village and it is considered the highest (in terms of location) and tallest (in terms of size) as compared to others.
No wonder, visitors would be astonished by its strong water discharge and loud sound of splashing water one arriving at the site. What is more?
The Nuance
According to the management, Kembang Soka Waterfall is located in a tourist spot with a total area of 5 hectares. Not only it comes with the stunning waterfall, but the area also offers a shady forest and several facilities for tourists to use during the visit.
Visitors can even find several eateries to buy snacks and drinks. Several bamboo bridges also reside near to the waterfall, so tourists can explore the site and enjoy nature comfortable. The river even looks quite soothing, which may lure everyone to play water and swim in it.
Exploring Kembang Soka Waterfall
There must be a reason why the locals gave such name to the site, no? For the information, Soka is a type of beautiful flower. So, what is the reason? It is said the water comes from the fountain, coming from the groundwater.
Plus, many Soka flowers grow on it. Another reason is that the waterfall has the similar beauty to the flower. After all, the waterfall comes with crystal clear water and stunning color (the combination of white and Tosca).
During the visit, it is also recommended to learn the history of Kembang Soka. It is said the waterfall was found accidentally by an adventurer.
Without a doubt, this person took some pictures using a camera and posted them on the internet. Due to such exposition, more people recognize the beauty and keep coming to the site over time.
The most common reason is to conduct photography. Also, some people come to Kembang Soka Waterfall in order to enjoy exploration and relaxation. Thanks to the amazing environment!
Another reason for visiting Kembang Soka Waterfall is to learn the myth regarding the site. It is said those who take a bath in that site would be able to eradicate tons of diseases at once. In fact, some locals had proven such magical effect! Their kids were healed after taking a shower under the waterfall. Well, not all people believe in such rumor though.
Nearby Attractions
Sungai Mudal Park
Kedung Pedut Waterfall
Waduk Sermo
How to Get There
The distance between Adisucipto International Airport and Kembang Soka Waterfall is 39.9 km. That means the trip may take about 1 hour and 8 minutes to get to the site.
The first thing to do is to reach Girimulyo Sub-District. Next, tourists only need to head to Jatimulyo Village where the waterfall resides. As for the best route, tourists can take advantage of Godean Street (which is the fastest). Source: http://indonesia-tourism.com/yogyakarta/kulonprogo/kembang_soka_waterfall.html
Where to Stay