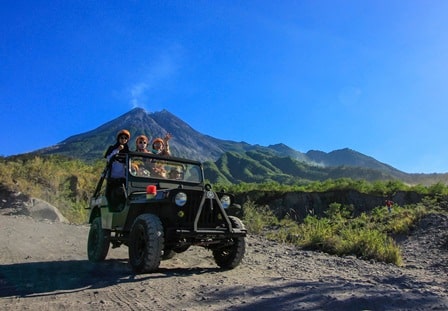 Cheap 5 Day 4 Night Tour in Yogyakarta All Include Package
Tour Packages are one of the best ways to travel hassle-free. With seamless planning, arrangements, and transfers being taken care of, booking holiday packages is the best way to explore the world's varied landscapes.
We all have our reasons and excuses to travel. Either we're looking for a solo adventure, seeking a quiet romantic getaway with our partner, or taking the whole family for a memorable holiday vacation.
Whatever the reason is, our packages make sure every tourist gets an experience to cherish for a long time.
Price: IDR 3.500.000 or USD 256 / Person. Minimal 4 Participant.
Itinerary Yogyakarta Day 1
If you're arrival in the Morning

Meet with driver at airport in the morning
Lunch at a Local Restaurant (Cost Included)
Visiting Sultan Palace (if you're arrival in the morning)
Visiting Tamansari Water Castle
Check-in to Hotel and rest
Meet again on 5.00 p.m
Visiting Malioboro
Dinner at a Local Restaurant (Cost Exclude)
Back to Hotel and rest

If you're arrival in the Evening

Meet with driver at airport in the afternoon or evening
Lunch/Dinner at a Local Restaurant (Cost Included)
Visiting Malioboro
Check-in to Hotel and rest
Itinerary Yogyakarta Day 2
Pick up from your Hotel on 3.30 a.m
Visiting Borobudur Temple Sunrise via Manohara Restaurant
Breakfast at Manohara Restaurant (Cost Included)
Visiting Chicken Church
Visiting Mendut Temple
Visiting Lava Tour Merapi (if Merapi Volcano can see and not cloudy)
Back to Hotel and rest
Meet again on 5.00 p.m
Visiting Alun-alun Kidul
Dinner at a Local Restaurant (Cost Exclude)
Back to Hotel and rest
Itinerary Yogyakarta Day 3
Pick up from your Hotel on 8.00 a.m after your breakfast finished
Visiting Pindul Cave Tubing & Oyo river for tubing activity

Note: Please bring your extra clothes, towel, sandals & waterproof for your camera or phone.

Lunch at Local Restaurant (Cost Included)
Visiting Gunung Api Purba / Nglanggeran (with Guide)
Visiting Pengger Pine Forest
Visiting Prambanan Temple at Sunset
Dinner at a Local Restaurant (Cost Exclude)
Back to Hotel
Itinerary Yogyakarta Day 4
Pick up from your Hotel on 7.00 a.m
Visiting Jomblang Cave (time activity in Jomblang Cave: 8.30 a.m – 1.00 p.m) FREE lunch a box meals

Note: Please bring your extra clothes, towel, shower caps & sandals.

Visiting Timang Beach
Dinner at Kedai Lobster Pak Sis (Cost Include)
Back to Yogyakarta
Back to Your Hotel and rest
Itinerary Yogyakarta Day 5
If your flight schedule in the morning

Pick up from Your Hotel
Transfer to the Airport and say goodbye

If your flight schedule in the afternoon / evening

Pick up from your Hotel at 8.00 a.m
Visiting Sultan Palace / Kraton Yogyakarta
Visiting Tamansari Water Castle
Visiting Tempo Gelato Ice Cream
Transfer to the Airport and say goodbye
5D4N Tour Package Included
Transport with Toyota Innova Reborn for 5 Passenger with Luggage
More than 5 People, we will using Toyota Hi-Ace for 12 Passanger maks.
Package including Entrance Fee all destination
Package Including Lunch 1x (1st day – 4th day)
Mineral water 2x each day
Donation
English Speaking Driver Guide and Photography
Equipment in Pindul & Jomblang Cave
Jeep at Merapi & Timang
Gondola at Timang
Seafood at "Kedai Lobster" Pak Sis Timang
5D4N Tour Package Exclude
Hotel and Personal Expense
Dinner
Guide in Borobudur and Prambanan