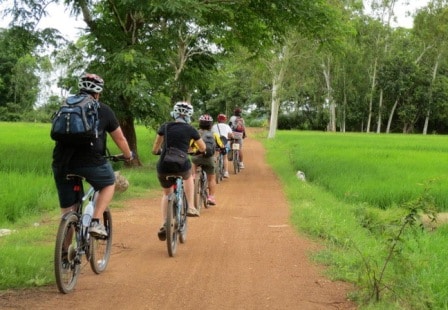 Yogyakarta Cycling Tour
The bicycle tour starts in the village of Cangkring "in my house :D", 20 minutes outside of Yogyakarta. I will pick you up from your hotel by motorbike or car (the pickup time is 6 am).
I recommend you start at 6 am, because it is still cool. During the raining season it will probably rain in the afternoon, which is another reason for the morning start.
When you arrive in Cangkring "My Village" I will make a coffe and we have a drink coffe together. After your drink you'll choose your bike. I will prepar all cycling tour such as bring a bottle of water for the ride.
The Yogyakarta cycling tour is split into two 45 minute chunks. For the first 45 minutes you'll ride along small country lanes through the fields and villages around Yogya towards the Imogiri Royal Tombs.
After a short rest you'll grab a traditional Javanese breakfast and then return to the start point. You'll be dropped off back at your hotel at the end of the tour.
Yogyakarta bycyle tour is a chance to explore the countryside surrounding Yogya. If you like the outdoors you'll enjoy this tour. It can be easily combined with the batik workshop at Giriloyo, which is held in the same village.
We'll offer you a discount if you book both activities. Fill in the form below to join our Bicycle Tour. We'll confirm your tour at the soonest.
Package Short Time – USD 20 / IDR 300.000 Per-Person
Duration: 5 Hours
Pickup at Your Hotel 6.00 a.m
Arrive in my Village
Have a coffe or tea together
Starting tour Visit Royal Tombs of Imogiri
Visit Giriloyo "Batik Factory"
Lunch at local restaurant
Back to my house
Transfer back to Hotel
Package Long Time – USD 30 / IDR 400.000 Per-Person
Duration: 8 Hours
Pickup at Your Hotel 6.00 a.m
Arrive in my Village
Have a coffe or tea together
Starting tour visit the oyo river and have a meal
Visit Royal Tombs of Imogiri
Visit Imogiri Batik Course for sightseing
Back to my house
Transfer back to Hotel
Pacakges Included:
Pick up & transfer to Hotel by Motorbike / Car
Meal
Entrance fee of Imogiri Royal Tomb
Free meals, coffe / tea