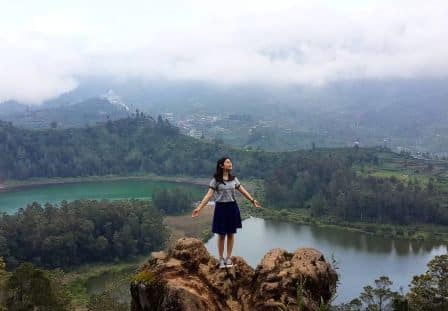 One Day Tour Dieng Plateau To See The Sunrise at Si Kunir
One Day Tour Dieng Plateau To See The Sunrise at Si Kunir – The Plateau is the location of eight small Hindu temples from the Kalingga Kingdom. It is unclear when they were built, estimated to range from mid 7th century to end of 8th century AD; they are the oldest known standing stone structures in Java.
They are originally thought to have numbered 400 but only eight remain. The temples are now believed to have been named after the heroes of the Hindu epic Mahabharata.
Michell claims Dieng's misty location almost 2,093 m above sea level, its poisonous effusions and sulphur-coloured lakes make it a particularly auspicious place for religious tribute.
The temples are small shrines built as monuments to the god-ancestors and dedicated to Shiva. The Hindu shrines are miniature cosmic mountains based on plans in Indian religious texts, although Schoppert suggest the design motifs have little connection to India. "Tjandi Ardjoeno on the Dijeng Plateau" photo by Isidore van Kinsbergen.
In 2011, in a review published by Romain, the temple is now believed to be related to Dravida and Pallava style temples of South India. The theory that poisonous effusions make it auspicious is now disputed as volcanic activity in this area from 7th to 9th century is yet to established, and records suggest the temple was abandoned after volcanic eruptions became common in central Java.
Visit
Dieng Plateau
Borobudur Temple
Price
1 Person = IDR 1.250.000 / Person
2 Person = IDR 900.000 / Person
3 Person = IDR 800.000 / Person
4 Person = IDR 750.000 / Person
5 Person = IDR 690.000 / Person
6 Person More: Please Contact Me
Include
Transportation
Private Car
English Driver
Mineral Water
Entrance Fee Ticket
Note
Pick up at the Hotel at 11.00pm
Minimal 1 Person