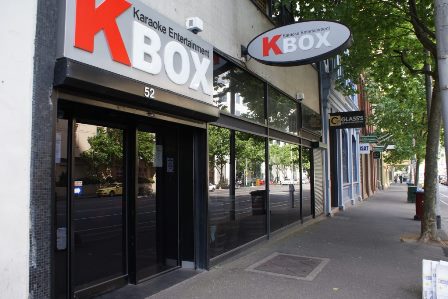 KBOX Karaoke Melbourne
KBOX Karaoke Private Room Melbourne – Going to karaoke is certainly very fun, especially if you go to karaoke with family or close friends. One of the recommendations for popular karaoke places in Melbourne, Australia is KBOX Karaoke Private Room Melbourne. This can be a place where you can relax and enjoy a fun atmosphere with your family or close friends.
The location is very strategic and easy to find because it is in the center of Melbourne City, precisely at 52 La Trobe St, Melbourne VIC 3000, Australia. If you're looking for a karaoke place close to Melbourne, KBOX Karaoke Private Room Melbourne is the right choice. The place is quite comfortable, clean, has a large selection of songs and the employees are friendly and fun.
KBOX Karaoke Melbourne Information
Place Name: KBOX Karaoke Private Room Melbourne
Address: 52 La Trobe St, Melbourne VIC 3000, Australia
Service: Karaoke Bar
Phone Number:

+61396639663

Hours:

Thursday 6PM–2AM
Friday 5PM–3:30AM
Saturday 5PM–3:30AM
Sunday 6PM–2AM
Monday 6PM–2AM
Tuesday 6PM–2AM
Wednesday 6PM–2AM

Website: https://kbox.com.au/
Location: Maps
That's the information we can convey about KBOX Karaoke Private Room Melbourne, I hope it's useful. If there is incomplete information and you want to add it, or if you want to share your experience visiting KBOX Karaoke, please write it in the comments column.
KBOX Karaoke Private Room Melbourne Reviews
As the best place for karaoke, KBOX Karaoke already has many visitors and is recommended by many people. Here are some snippets of reviews left by customers on KBOX Karaoke Melbourne:
Emma C: Had a fabulous night here recently! The Happy Hour dining karaoke package is excellent value for money. The food options were surprisingly sufficient to share as a group and tasty too. Staff were very friendly and helpful with the booking process. Really good selection of songs and decent technology. Only wish would be the ability to dim the lights to create a different mood but the atmosphere in general was great. So much fun!
Trung: Impressed how this old establishment have been around for over decades and is still up to date with technology and managed to pull through the pandemic and now a thriving business. Felt like a Korean or Japanese rooms which was nice and clean.
Service was a tad slow but super friendly.
Had a lot of fun. Well done and all the best Kbox!
Erickson De Guzman: Always have a good experience when at this place.
Alcohol is average priced for a venue in the city.
Rooms are generally clean, toilets could be cleaner but expect then to be a bit dirty on a weekend night. More/newer songs should be added but still a great and large song list.
Jodi Rosenthal: Always a brilliant night out at KBOX! I have been going there for years for a reason. The rooms, equipment, service and song choices are top notch and importantly, they are always happy to extend your time if you just haven't had enough singing! Really like that you can now search and add your songs via mobile too. Makes it easier to find songs and manage the playlist.
Kim Jane: Food was great. Sangria was incredible. Song choice was fantastic. Prices were more than reasonable. Only qualm was not all KPop songs had subtitles in English letters but otherwise, spot on. One of the most fun things I have ever done. Will return!!!