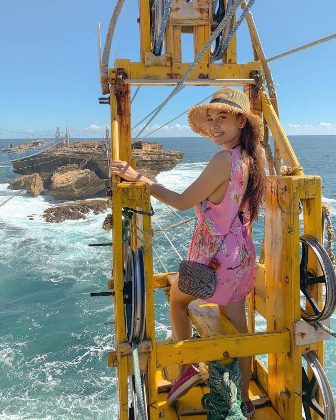 Renting a Car to Timang Beach – Want to go to Timang Beach but don't know what transportation to use? Indeed, to go to Timang Beach you have to use private transportation, because from Yogyakarta City to Timang Beach there is no public transportation. If you are traveling in Jogja and want to go to Timang Beach, please use Jogja car rental services to Timang Beach, Gunungkidul.
The cost of renting a car to Timang Beach that we offer is quite reasonable, we calculate these costs based on the operations that will be incurred, such as the type of car used, the duration of the rental, as well as packages that include a driver and fuel. Therefore, to get the latest and complete information from our services, please contact the telephone number or whatsapp that we provide on this bprentcar.com website.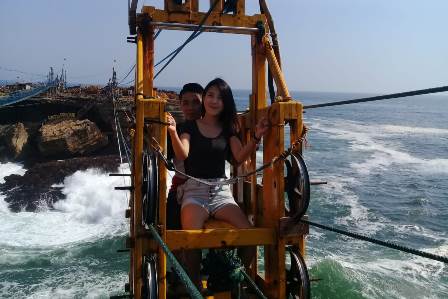 Car Rental from Yogyakarta to Timang Beach
Before discussing more about car rental from Jogja to Timang Beach, it's good for us to know what Timang Beach is and where is it located? By knowing information about Timang Beach, of course you will be more confident when you want to visit it.
The name Timang Beach may still be a little foreign to some people. However, the name Timang Beach is popular and has been known even abroad. In fact, there are many events happening on this beach, one of which is Timang Beach being used as a shooting location for Korean TV programs and this is what makes Timang Beach so popular and many tourists want to visit it.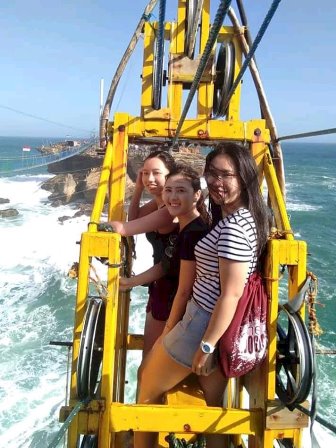 Timang Beach Gunungkidul is one of the beaches in a row of beaches in Gunungkidul. Its presence makes local and foreign tourists interested in visiting it and even Timang Beach has become a mandatory tourist destination for travelers from abroad. However, there are still many people who hesitate to visit Timang Beach, this is because transportation to get there is very rare.
As an answer to transportation needs from Yogyakarta City to Timang Beach, using a Jogja car rental to Timang Beach is the right choice. What you need to know that there are many beaches in Gunungkidul and how to reach them. Timang Beach not only offers exotic views, but Timang Beach also has a uniqueness that will not be found on other beaches.
One of the characteristics of Timang Beach is Timang Island. The small island opposite which was previously used as a place for fishermen to catch lobsters. To reach Timang Island, the fishermen must use equipment called a Gondola. And the Timang Beach Gondola is what makes the name Timang Beach more popular.
Catching lobster on Timang Island is the livelihood of the fishermen. You have to know, Timang Island is a hiding place for large lobsters, so it is not surprising that local people rely on profits by selling lobster for their living expenses.
The scenery on Timang Beach is very exotic and you should not miss it. You can capture your moments here by taking pictures with your partner, family or friends. There are interesting photo spots that you won't find on other beaches, such as using the suspension bridge connecting Timang Island and Timang Beach Gondola.
However, for each use of the equipment you have to pay at a rate that has been determined by the manager of the Timang Beach tourism object.
The Best Timang Beach Itinerary
It takes 3 hours to reach the beach from Yogyakarta. It was a long journey. If you plan to rent a Yogyakarta car on the day to visit Timang Beach I recommend combining this trip with other activities. When it comes to Temang Beach my personal advice is as follows. I will start the day by going to Jomblang Cave in the morning and then go to Temang Beach in the afternoon.
Finally in the afternoon stop at the view point of Mount Kakitol to eat. This itinerary allows you to visit some of the best sights without spending too much time in the car.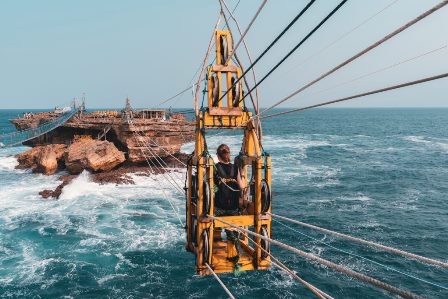 Challenges at Timang Beach
Not only related to vehicle rental to Timang Beach. There are many challenging and extreme rides on this beach. No wonder there are many rumors circulating that this beach is an adrenaline-pumping beach. you know why? For those who don't know this place has a cable car and a suspension bridge.
Wooden bridge and rope. While the cable car is also one that can move with human power and pulleys. Although it is famous for its extreme adrenaline and adrenaline, only a few tourists dare to enjoy riding the cable car. and cross the bridge. Stopped in between for some great photo spots.
Timang Beach Location
For those who visit and enjoy Timang Beach, Donggala Hamlet is located in Purvodadi Village, Tapas District, Gunungkidul Regency, Yogyakarta. Yogyakarta city center can be reached within 3 hours.
However, if you start from Jalan Wonosari you have to cover a distance of about 35 kilometers. If you are from Yogyakarta you must first take the south road towards Jalan Wonosari. Next time to Baron Wonosari Beach.
After at the Mulo T-junction, follow the West Road to Siung Beach. After that pass the Dakbong Bazaar and the stone road the image of Timang Beach reaches its fullness and reality.