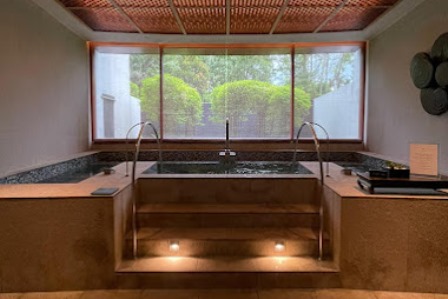 Capella Sentosa Spa, Singapore
Serene hotel spa features 9 treatment rooms with private gardens, vitality pools & a lounge.
For those who arrive on Sentosa Island and want to slow right down, there is Auriga. As the first spa in Singapore to receive a five-star status from Forbes Travel Guide and for 12 consecutive years, Auriga spa celebrates nourishing the body and mind naturally and holistically. Discover spa retreats and signature treatments that incorporate traditional techniques and organic, natural ingredients that will envelope the senses.
Nestled in the lush rainforest of Sentosa Island, Auriga Spa at Capella Singapore is a perfect cocoon to rest, rejuvenate and tap into the celestial rhythms. Auriga, whose namesake is a constellation in the northern hemisphere, has a distinctive approach to wellness and beauty based on the cycles of the moon.
Information of Capella Sentosa Spa
Spa Name: Auriga Spa – Capella Sentosa Spa
Address: 1 The Knolls, Sentosa Island, Singapore 098297
Phone Number: +6565915075
Hours:

Monday 10AM–9PM
Tuesday 10AM–9PM
Wednesday 10AM–9PM
Thursday 10AM–9PM
Friday 10AM–9PM
Saturday 10AM–9PM
Sunday 10AM–9PM

Website: https://www.capellahotels.com/en/capella-singapore/
Location: Maps
Capella Sentosa Spa Reviews
Alex Tan: Excellent day spa with beautiful facilities. The Herbal steam room was a revelation, and the massages were fantastic. The post-treatment room with fruit, herbal tea, mini Zen garden and relaxation colouring book were a nice touch. Zura and Rizkin were our Auriga Wellness Guides today, and they were excellent.
jr collin: Was at Auriga on Wed, 6 April for a 1230 appt. Greatly pleasant experience throughout the entire experience, from the booking process to arriving at the spa. Staff were patient and courteous and explained everything in great detail. A couple room was proactively offered to us and the massages involving different techniques and tools are rather unique and offered different experience to the usual massages. Big kudos to the reception staff and maanger on the day of my visit – receptive to feedback and exceptional customer service!!
Muni Vinay Kamisetty: This spa is a perfect amalgamation of luxury, ambience and nature. Never seen a spa which is as spic and span as auriga. Various facilities include wooden lockers(protected with ur customize pin), herbal steam room, warm pool with the bubbles – felt like I was in an onsen. On top of all – excellent spa treatments. Mai (my masseur was very courtious and professional). Last but not the least, friendly staff will only enhance ur experience.